Are We Already in a Cashless Society? Three Part Blog Series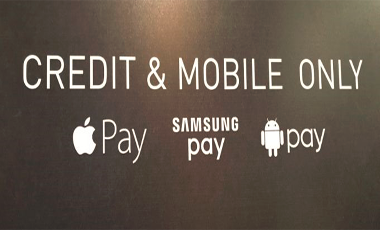 Introduction to the Series
Think about the last time you walked into a bank branch, or wrote an actual physical check. What about how often you use cash, compared to a few years ago. I think you could agree that most people living in large Western economies are doing all of those activities less than ever before. In this three part series, we'll discuss the pros and cons of a cashless society. Don't forget to read part one before moving ahead!
Part 2: The Disadvantages of Going Cashless
Despite the many benefits to going cashless, doing so is by no means a no-brainer, as discussed in our first blog of this series. It is something that has profound implications on business, governments, consumers and regulators alike. And to understand why some of those groups prefer not to move to a cashless future and instead prefer to remain where we are, or perhaps to move toward even less of a digitized economy than we now live in, it makes sense to consider some of the benefits of cash and the perceived downsides of going cashless.
Cybersecurity Concerns: Digitizing an entire component of any aspect of our economy brings with it enormous responsibilities and risks. Payments at the end of the day are about the exchange of anything of value. Putting aside any obvious references to Willy Loman for a moment, it's clear that cybercriminals, identity thieves, nation-states and other adversaries continue to attack and try to manipulate the financial services system. We need look no further than the spike in data breaches, DDoS attacks on financial services institutions, social engineering, and other tactics to remind ourselves that even in our current midway state of partially cashless, the U.S. remains vulnerable to attacks. The issue here is primarily around continuing to remain vigilant and continuing to protect this critical link in our country's efforts to facilitate the faster and more digitized use of payments.
Less Privacy: Privacy advocates have warned about this many times and there's little debate that the implications on privacy are significant when it comes to removing cash. As Nathan Heller of The New Yorker recently wrote, "The record of our electronic lives is a convenience, except when it's an annoyance or worse." And the experience across the world is quite divergent and diverse. In Germany, cash remains crucial (they in fact carry the most cash of any major developed country) and "77 percent of Germans … believe cash is much safer than cashless payments" according to ING's 2017 International Survey of Mobile Banking 2017. Moreover, immigrants without official status might prefer to avoid going cashless for fear of having their whereabouts, their buying patterns and other personal data used against them in some manner that hinders their aspirations for ultimately coming out of the shadows.
Vulnerable Communities: What does going cashless do to select demographics that may struggle to adopt such services? For example, an elderly individual without access to the appropriate technology and familiarity with digitized financial products may struggle to access the services, products, medications and other items that they require. Consider another example: an immigrant who relies heavily on cash. They will have to go through an adjustment period and may initially have difficulty understanding how best to access items in need, especially because the establishment of a financial digital identity requires time and additional documentation from state and other authorities (think driver's license). Such delays of a completely unrelated document would by definition unnecessarily delay one's entry into the cashless economy if they were to remain linked in this manner.
Speed: Cash is fast. You hand it over to someone and you're done. We've all witnessed the delays in the move to chip-based credit and debit cards, the grunting from behind you in line when you try to get your digital wallet provider of choice to work with the Point-Of-Sale terminal, and more. These delays of a few seconds are not inherently a threat to going cashless, but they are a facet of this that people discuss and think about. Fintech companies providing consumer-based financial products and services do think about such matters and worry about slower adoption from such latency.
Going cashless has inherent risks that are only now being adequately considered by the groups involved in this trend. Part of the problem is that the complexity of these different groups and their sometimes competing interests makes it difficult to reach conclusions. For instance, how are we to adequately and comprehensively secure the many "surface areas" of our payments landscape in a cashless society if the device vendors, telecommunications companies, app designers and financial institutions are not able to reach consensus around information-sharing, security protocols or security monitoring?
To wrap up this three part series, we'll conclude with a look into the financial crime and security implications of going cashless.