From Regulatory Pressure to Improved Compliance Operational Efficiency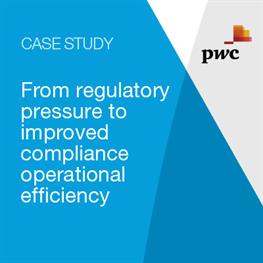 ​​Faced with intense regulatory scrutiny and a mandate from OCC, the project team at a regional U.S. financial institution came together to complete an extremely aggressive vendor selection and implementation.
When a recent regulatory audit uncovered inadequate controls in detecting and reporting suspicious activities, alert triage and alert scoring, SAR filing, and ongoing monitoring of higher risk customers, it was time to find a partner to help quickly turn its AML program around.
Learn how NICE Actimize and PwC helped the FI not only address the existing regulatory concerns, but rebuild its BSA/AML program from the ground up on a single platform in a short timeframe.
How did incredible regulatory pressure result into a robust end-to- end AML program at reduced cost of compliance for this Financial Institution? Learn about the journey in this case study from NICE Actimize ​and PwC.
Download this case study to read the story!