X-ccelerate Consulting & Advisory Practice
Beyond the Implementation
Our team of more than 400 experts across 15 countries understands your toughest risk and compliance challenges. We're ready to provide industry benchmarking and incorporate best practices into your Target Operating Model to help your processes run as smoothly as possible.
Our Domain Expertise includes: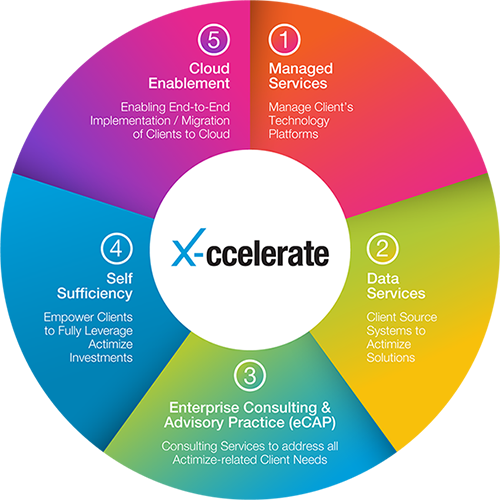 A​chieving a Financial Crime Target Operating Model
When it comes to regulatory compliance and mitigating risk, things can get complicated quickly. You need an effective plan that answers your unique goals and needs. NICE Actimize can help create a Financial Crime Target Operating Model (FCTOM) that serves as your central plan to keep your program running smoothly.
Our purpose is to enforce corporate strategy and vision across business operations.
We represent how your company can be best organized in an effective and efficient operational environment.
We break down siloes to allow for collective understanding across the enterprise.
We cover people, operations and technology.
Our outcomes include achieving strategic goals, reducing cost and driving revenue.
​​Health Check Evaluati​​​on​​
X-ccelerate Consulting & Advisory Practice uses utilizes a multi-faceted engagement approach with our clientele to provide more efficient and effective services. There are 3 phases to the engagement:
​Phase I: Onsite HCE Discovery
Discuss Business/Technical Operations and Pain-Points
Include half-hour to hour Observations of Curre​nt Operations ​
Potential Integration Opportunities
Reporting Activities [Existing Metrics/Dashboards] to Establish a Baseline for Operations
​Phase II: Analysis for the Business and/or Technical Environments
Perform Business Operations Evaluation
Current Usage of Solution Feature/Function​
Integration Opportunities
Reporting Activities and Criteria
Benchmarking
​Phase III: Recommendations
Post-Health Check Evaluation – Prioritization of Enhancements
Deployment of Recommendations​​​​​​​​​​​​​​​​