2017 CDD Survey Results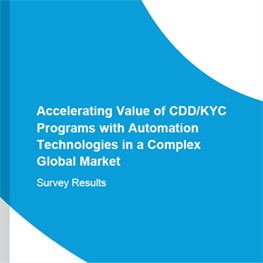 ​​​​​​​Financial Services Organizations (FSOs) face an increased need to evaluate and enhance organizational CDD/KYC controls in order to address new regulatory requirements, and they may be turning to process automation to do it.
​​​​​​​To better understand the overall impact that this dynamic regulatory environment is having on the AML industry and how technology is being used to address it, NICE Actimize launched a survey to delve into the unique challenges and priorities in the CDD/KYC space. The main objectives for the survey were to:
​​​​​​​A small preview of key findings includes:
Overall, financial organizations rate the state of their CDD/KYC programs favorably when it comes to program coverage and readiness. Yet, in general, respondents stated that their CDD/KYC programs were not sufficiently automated.
The most influential market drivers for financial organizations when approaching their CDD/KYC strategy are the importance of company reputation/perception in the marketplace, new beneficial ownership regulation, current challenges and future priorities, and the focus on counter terrorist financing.
Top operational challenges related to current CDD/KYC are data quality and availability, manual processes, and difficulty maintaining/updating existing IT infrastructure.
​​​​​​​The survey findings reflect the significant and ongoing impact the recent CDD and beneficial ownership regulations have had on financial organizations, and the challenges that addressing regulatory requirements creates. Survey findings also provide insight into how financial organizations are addressing these challenges through technology and process automation.
​​​​​​​Financial organizations are investigating and implementing process automation solutions that will help create strong compliance controls within the organization.
​​​​​​​For​​ a​ full copy of the results, download our free report ​now.​