Protecting Instant Payments in the US: P2P and beyond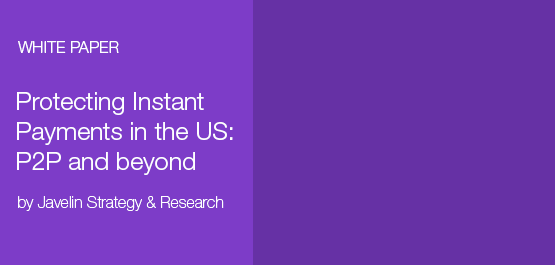 ​​​​​​​We all have grown familiar with the words, "Oh, just Venmo me!". Instant digital payments such as Venmo, Zelle, Cash App, etc. have become some of the most popular forms of payment today. Whether it's splitting a check, paying someone back, or even paying bills, many have turned to using instant digital payments due to its efficiency and convenience. The demand for funds to be swiftly settled and cleared is constantly increasing.
​​​​​​​Though instant payments may seem like a great fix, this option comes with its drawbacks. The faster the payment, the more appealing it will be to fraudsters. Fraudsters see instant payments as a quick and nearly undetectable way of stealing money. We must find a way to detect and prevent fraud from occurring in both the retail and commercial spaces.
​​​​​​​Any payment platform that wants to increase its number of retail and commercial users needs to raise the bar when it comes to fraud prevention and awareness. Download the Javelin Strategy & Research white paper to read more about P2P payments, including what banks and other parties in the ecosystem can do to keep the future of payments safe.
​​​​​​​This research report was independently produced by Javelin Strategy & Research. Javelin Strategy & Research maintains complete independence in its data collection, findings, and analysis.