4 Ways to Gain Peace of Mind as a Compliance Professional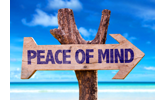 It's tough being a compliance executive these days – regulations are becoming more complex and personal accountability has become an important focus of regulators themselves. Knowing that you could personally be on the hook for a compliance lapse, we've prioritized four areas to look at to gain some peace of mind:
Culture – It may seem obvious, but it all starts with culture. An organization that puts ethics and compliance first is going to always be less risky than one that doesn't. It begins with hiring and retaining the right people, but there are other concrete steps you can take to get there quickly, including refreshing your team on policies and regulations, ensuring you are always audit-ready by having relevant data easily available, and simply leading by example and showing your team that compliance is of the utmost importance. Don't believe us? Take a look at what FinCEN has to say in a post by our AML Team

Centralization – It's nearly impossible to have proper oversight without centralizing your policies, regulations, processes, and controls. Providing ways for your team to easily access these, not to mention the data you need to work with on a daily basis, helps you keep tabs on the activities in your organization and helps your team get what they need without wasting time and energy. Centralizing as many of these areas as possible helps you gain a unified view of risk, which has added benefits outside of simply remaining in compliance.

Oversight – Now that you've centralized your policies, regulations, processes, and controls, proper oversight is possible. Crucial to gaining oversight is transparency and follow up. A great place to start is to ensure that your communications are clear. Combined with effective follow up, you will more effectively ensure that everyone is following the rules. If you need some help, why not check out this great whitepaper by PWC, where they suggest some ideas around oversight through case management?

Technology Update – If your institution hasn't reviewed its compliance technology infrastructure in years, you might be in for a shock. New tools remove the guesswork and many manual activities from your day-to-day activities – meaning faster and more accurate reviews. Some of the newest technologies even help you monitor your team's awareness of rules and regulations – which, in the end, could protect you from fines and help you save a lot of time.

Short of going on a nice long vacation, we think that these four areas should help let you gain a little peace of mind, sleep better – and likely save you time and money in the long run.
Thanks for letting me give you a piece of my mind about your peace of mind (pun intended). I'd love to hear if you tried any of these and how they are working out for you – just contact me any time.
​