ENGAGE Around the Globe
The NICE Actimize team recently held two of its four regional ENGAGE Client Forum events. These unique events offer clients the opportunity to hear from industry and NICE Actimize experts, as well as network with their financial crime industry peers.
ENGAGE London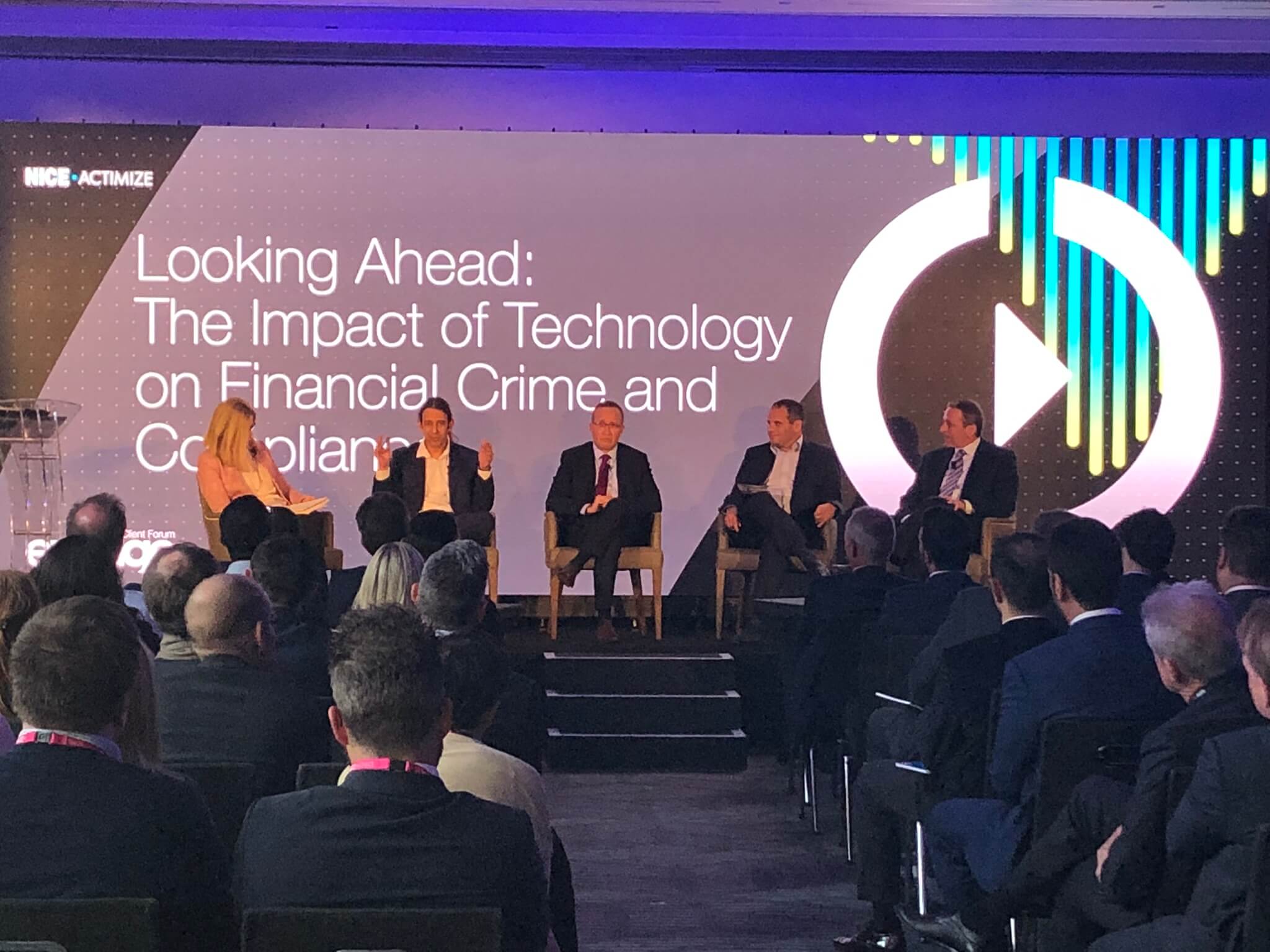 The ENGAGE 2019 EMEA Client Forum – London was the first event to kick off the series of ENGAGE events. To launch the event, attendees heard from NICE Actimize CEO, Craig Costigan and Erez Zohar, Head of Product. Craig and Erez discussed recent updates and the future of NICE Actimize solutions. Next, Sophie Hackford, a renowned futurist researcher, delivered an exciting keynote on "Machine Earth: How We Are Turning the World into a Computer."
Attendees then split up into three tracks focused on anti-money laundering, fraud and financial markets compliance, with over a dozen client and industry speakers throughout. Fraud track attendees learned how automation can transform fraud operations to do more with less. In the anti-money laundering track, attendees learned how advanced analytics can help them keep pace with the changing regulatory and threat landscape. In the compliance track, the "72 Hours or Bust" session featured a panel of experts discussing holistic trade compliance.
Attendees wrapped up the day with an evening reception, allowing for lots of networking with their peers and event speakers.
ENGAGE Singapore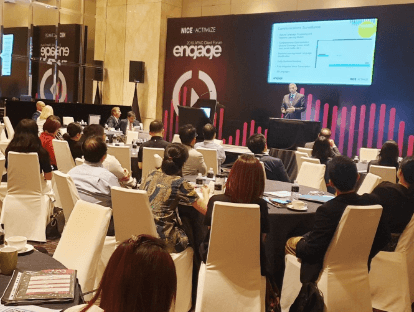 In July, NICE Actimize held the APAC ENGAGE event in Singapore. Attendees heard from the NICE Actimize anti-money laundering and financial markets compliances teams, as well as industry experts. The event began with a keynote from NICE Actimize CEO Craig Costigan, as well as a presentation on Autonomous Financial Crime Management by Donna Weiss, Head of Strategy and Product Marketing. Breakout session highlights covered a range of anti-money laundering best practices and challenges specific to the APAC region, including fraud and AML team convergence, the changing nature of financial crime in Asia Pacific, and addressing risk management challenges. Mike Frost, Director of X-Sight Product Management, presented on the impact of technology on financial crime and compliance, covering the influence of cloud, machine learning and technology marketplaces. Lee Garf, General Manager of Financial Markets Compliance, discussed how a holistic approach to surveillance can create new efficiencies to better identify threats.
To close out the event, attendees enjoyed a view of the Singapore skyline during a networking reception where they had the opportunity to meet with industry peers and event speakers.
Coming in November: ENGAGE 2019 Product User Groups | Client Forum in New York
For the first time, NICE Actimize is combining its two most popular client events, Product User Groups and Client Forum, into one mega event featuring two full days of product updates, thought leadership and many opportunities for networking on November 19-20 in New York City. With an expected attendance of 500+ financial crime and compliance experts, participants can look forward to exciting keynotes and more than 40 breakout sessions throughout the event.
Those attending Product User Groups on day one can join interactive and educational product-focused discussions led by NICE Actimize product management and experts. They'll cover what's new, what's coming and offer opportunities for clients to share important feedback. At the end of day one, attendees can celebrate and network with their peers at the PlayStation Theater for a night of food and entertainment.
On day two for Client Forum, attendees will join thought-provoking sessions focusing on today's broader financial crime and compliance trends, hearing from leading financial institutions executives and industry analysts. Just a few topic highlights for 2019 include fighting fraud together: the value of collective intelligence and collaboration, Regulation Best Interest, achieving a holistic view of customer risk by orchestrating KYC/CDD content, integrating fraud, AML and surveillance, and automation with ActOne for investigation and case management.
Apart from breakout sessions, attendees will have many opportunities to attend the Partner & Solutions Showcase to visit with event sponsors and X-Sight Marketplace partners, as well as NICE Actimize product teams for exciting demos.
NICE Actimize clients – if you haven't registered for this exciting event, don't miss out! Pricing increases after September 15 – learn more and register here.
​