The Journey to Automation – Key Considerations for Compliance Automation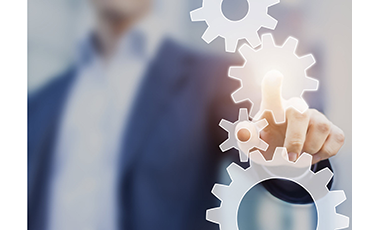 Humans​ make mistakes. I'm sure you already knew that. But, I'll bet you didn't know to what extent. According to the Institute for Robotic Process Automation, during any given 100-step process, we humans typically make ten errors. In our world of financial crime and compliance, those errors translate to missed fraud, overlooked money launderers, lost time and money, and ultimately an increased level of risk in an organization. It stands to reason, then, that automation is a good option to consider in order to help analysts improve accuracy of investigations, productivity, and overall be more flexible in their jobs.
To be crystal clear: there's no replacing a good human brain. But even the best human brain can make a mistake, especially when it comes to manual, mundane, and repetitive tasks. And processes that include these types of tasks are exactly those that are best suited to automation. But where do you start? What should you think about? Here are some pointers to serve as a primer to help you as you evaluate your operations.
Question Your Systems and Processes
First, begin by identifying and examining your typical investigations (in other words, the investigation that your team executes most frequently). Ask yourself a few questions, such as:
How many different systems does the team need to access in order to properly investigate and close it out?
How much time do they spend in each system, and what kind of data are they looking for?
How many times a day do they need to visit these systems?
Are they manually moving the data from these systems to their case manager?
How long does the entire investigation take to complete?
These questions should be repeated for your most common investigation types. Your answers should help you map out the different systems your team touches and the processes they follow, and as you do that you should start to see where the greatest inefficiencies lie. In fact, at the end of this process, you should be able to spot where the team is making easily avoidable errors and where you can save time by automating manual or repetitive tasks. Next, comes prioritizing where to start.
What to keep in mind
There are four things to remember if you're ready to start a journey to automation:
Be impactful – first look to uncover the biggest opportunities and gaps that could add up to real time and money savings.
Don't miss the small stuff – these can add up. Saving just 10 minutes a day for each analyst on a team of 10 adds up to two man-months per year!
Think about more than dollars and cents – team morale, job satisfaction, and retention are strongly related to speed, quality, and your level of risk. If your team can find more time to spend on really strategic and critical decision making, and less on lower level chores, they will be much more satisfied and successful employees as well. I can't overstate this enough.
When you have finalized your short list of automation priorities, only consider adding in those technologies that leverage your existing investments. Automation should work for you, and not the other way around. If you need to start replacing systems, that could add additional complexity, costs, and potentially cause disruption.
Unfortunately there isn't an automation tool out there to do all of this up-front prep work for you yet – we still need human touch for that – but we promise ​the effort is well worth the return.
Learn more about NICE Actimize's Robotic Process Automation Solutions​ for Financial Crime and Compliance.
​​