AML for MSBs & FinTech: The Compliance Conundrum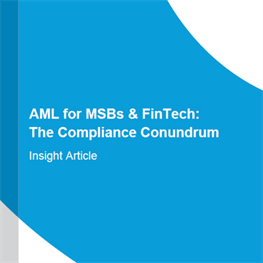 ​The debate of compliance vs. growth continues to rage in the FinTech sector, with companies subjected to strict AML regulations within the jurisdictions they operate. FinTechs don't have to be scared of compliance. In fact, financial technology, payments, and MSBs can use it as a competitive advantage.
NICE Actmize's latest Insight Article, "AML for FinTech and MSBs: The Compliance Conundrum," provides a roadmap for FinTechs to implement sound compliance controls using RegTech built for their space, and outlines:
Common challenges experienced by FinTechs and MSBs, and cost-effective solutions

Best practices for creating a culture of compliance

Case studies that demonstrate how FinTech uses AML RegTech
Download this insight article to read more.