The Right Stuff: Risk and "Relevant" Data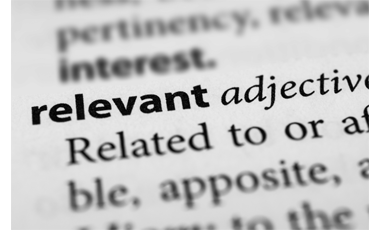 Currently, financial services firms are working hard to keep their heads above water when it comes to dealing with the tangle of technology that has emerged in some of their operations – coupled with rising costs and an onslaught of regulations. Perhaps no news here. But what's the fix? While it is certainly true that emerging technologies around Cloud services or Big Data could offer critical prescriptives that potentially solve many of the problems that financial institutions are facing in the surveillance arena, there is often a catch.
Organizational structure and compliance strategies must be addressed first – not just the impulse to buy the newest technology fix available. If the underlying direction isn't right, then new software isn't going to provide much benefit. Clearly you don't solve regulatory and operational inefficiencies by just layering new technology over new technology – using this siloed approach, over time, results in even more confusion and a lot of inefficiency.
Sometimes you just need to take a step back and take a hard look at what you are really trying to do. Stripping your regulatory and compliance support operations to its most basic, fundamental objectives is the most important first action you will take. Since a primary concern is keeping up with the new regulatory requirements, doing that well is what really has the most impact on your firm and capital markets in general.
Strategically, streamlining one's surveillance infrastructure requires a rethinking of both objectives and the problems themselves before integrating any new technologies into the tangle. Any changes that need to be made must be thought through carefully in order to fully realize all the benefits that they bring. For example, most firms are using multiple systems across different lines of business and different asset classes to operate on a daily basis which makes timely surveillance difficult and often costly. This is where things get difficult – and no surprise, the review starts with the data.
Once all of the various types of structured and unstructured data has been identified and brought together, you usually need to run a surveillance program on all of it – noting that there is a vast amount of endpoints and responsibilities. So what is the link between Big Data and these problems? "Big Data", the often-used term, is not always the right term – it is "relevant data" that is more the achievable goal. Compliance officers need to enforce the culture that includes the theme, "I need to get all of right data to my team, to make the best educated decision based upon all the different analytics that are run on the right data, not all of the data."
Front, middle and back office may seem to have the same requirements, but the data required to achieve these objectives may be different and only related to a specific function, which brings us back to the point of a creating a more efficient way to monitor and surveil.
If I am looking for risk, I should not have to enter it into many systems and the systems shouldn't need different ways to recognize it. Risk is risk, and regardless of the manner in which it is deemed, as an analyst I should only have to run a single task.
While meeting associated regulatory requirements may seem to be the dominant objective, firms must also create a culture that is pro-compliance. To do that, you need to enforce these standards and do so in a way that is effective and efficient. Since firms' bottom lines are shrinking, and the motto "do more with less" is a reality, Compliance leadership needs to start with looking at their structure perhaps along with their corporate "attitude" – then and only then can technology be brought in to support the operation.
​