Comprehensive Communications Surveillance and Risk Detection
SURVEIL-X Communication provides comprehensive surveillance coverage for all communication modalities (email, chat, video, and voice), asset classes and languages, in a single cloud-ready solution.

SURVEIL-X Communication includes advanced features like natural language understanding (NLU), built-in transcription, contextual querying, integrated case management and interactive dashboards, along with proven risk detection models which can help you weed out false positives, bolster efficiency, drive down costs and reduce regulatory risk.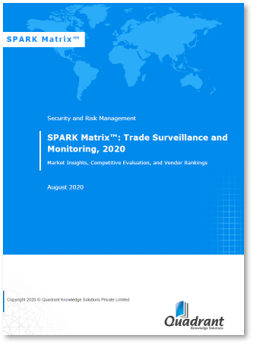 Analyst Report
SURVEIL

-X

sets the standard

Download from the Resource Center the "SPARK Matrix™ for Trade Surveillance and Monitoring" showing NICE Actimize as the highest-scoring vendor across Technology Excellence and Customer Impact metrics.
The Quadrant Knowledge report noted that, "NICE Actimize product strategy and roadmap is centered around the themes of complete coverage, precision detection, and intelligent investigations. The company is making continued investment in AI and customer-enabled, self-development tools for both traditional and ML-based models. The company continues to enhance its automation capability by leveraging AI & expert user feedbacks and shares the knowledge with its customers via federated learning."
All Communications Surveillance Coverage in One Solution
SURVEIL-X Communication monitors one-hundred percent of your regulated employee communications, across all voice and electronic communication channels – turrets, desktop phones, mobile, email, instant messaging, chat, texts, social media, unified communications, and even document attachments.

SURVEIL-X Communication seamlessly connects to your existing communication archiving systems (both NICE and third party) to ingest structured, unstructured and semi-structured data. All data is WORM-protected so it can't be overwritten or deleted. Built in voice transcription (powered by Nexidia) SURVEIL-X Communication accurately converts voice communications to text.

Ingested data is automatically cleaned, normalized, converted to an industry standard format, and indexed, so it can be analyzed, understood and leveraged across SURVEIL-X Communication's compliance applications.
The Benefit of using

SURVEIL

-X

Communication
One surveillance solution for all communication modalities, including voice
Built-in transcription accurately converts speech to text
Advanced language understanding reveals true context of communications, reducing false positives by up to 90%
More accurate detection than lexicon-based solutions
Provides insight into risky communications for improved decision-making
Expansive coverage: analyzes communications in 45 different languages
Leverages GreenKey NLP for highly accurate analysis of trader jargon
Out-of-the-box detection models provide unparalleled conduct risk detection coverage across dozens of languages, covering every asset class and key regulation
DIY analytics via drag-and-drop interface enables firms to create custom rules
Uncovers hidden risk and underlying intent within vast repositories of communications data
Provides instant access to billions of records with fast investigative search and automatic reconstruction tools
Reduces the cost of compliance by automating compliance workflows and improving overall efficiency of compliance analysts by up to 80%
Reduces regulatory and business risk by using advanced machine learning techniques and Natural Language Processing (NLP) driven analytics and models to automatically review 100 % of regulated employee communications
Ensures full compliance with MiFID II, Dodd-Frank and FX Global Code regulations around communications surveillance
Reduces Total Cost of Ownership (TCO) through intelligent analytics and cloud deployment
Advanced anomaly detection improves risk detection without adding resources or overhead
Provides a path to holistic surveillance, and improved risk detection
Easily "turn on" additional specialized SURVEIL-X capabilities (e.g. SURVEIL-X Conduct, SURVEIL-X Suitability)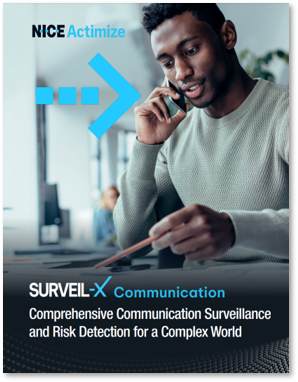 Brochure
SURVEIL
-X
Communication
Download the 12 pages brochure on
SURVEIL-X Communication

from the Resource Center and learn more about:
Integrated Case Management Streamlines Investigations
Advanced Anomaly Detection: Improve Risk Detection without Requiring Additional Resources
Out-of-The Box and Custom Reporting Dashboards
The Path to Holistic Surveillance