Automatically and Accurately Reconstruct Entire Trades
The latest global-reaching financial regulations demand far more meticulous monitoring of transaction processes with comprehensive collection of trade data and communication records. In most cases, banks must be able to gather evidence and reconstruct a timeline of events related to trades within 72 hours of the request.
Together with Holistic Behavioral Analytics, the Trade Reconstruction solution dramatically simplifies the reconstruction of a trade by normalizing, analyzing, indexing and correlating data across ALL structured and unstructured data sources.
Aggregate, Analyze and Act on All Trade-related Data, Voice Recordings and Electronic Communications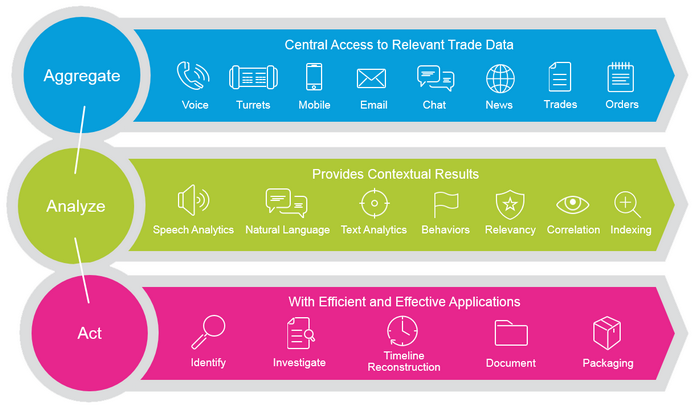 The automated Trade Reconstruction solution increases productivity and meets strict deadlines by reconstructing trades in a fraction of the time when compared to manual processes. Invest saved time into review to uncover and manage risks.
Aggregate
Aggregate all data in a single solution including trading alerts, orders, trades, executions, voice, mobile, email, chat communications and more
Index, clean, standardize and enrich the data to speed up the reconstruction process
Convert voice conversations to text
Centralized Discovery – perform full searches across all data in a central, easy-to-use interface
Analyze
Sort and categorize the data automatically using big data analytics
Use machine-driven correlation to instantly find related trade conversations and content across 100% of the data within the system
Create full trade event reconstruction with timeline review
The automated trade reconstruction returns all potential data elements of a trade from one search, saving time. No more time-wasting searches over multiple databases
Act
Analysts and Investigators are now able to identify potential anomalies in visual result sets
Share and escalate information with policy-driven workflows that are triggered with automated actions – collaborate, attach relevant information, track access to data
Reduce process turnaround from hours to minutes
Reduce costs