SURVEIL-X Holistic Surveillance
Compliance Solutions for


Client Advisors and Portfolio Managers
As regulatory bodies around the world step up enforcement of market abuse and investment suitability regulations, wealth management firms are increasingly finding themselves in the spotlight for questionable surveillance and suitability practices. With reputations and multimillion-dollar fines on the line, vigilant supervision of regulated users is essential.
Take your Trade-Related Surveillance to a Whole New Level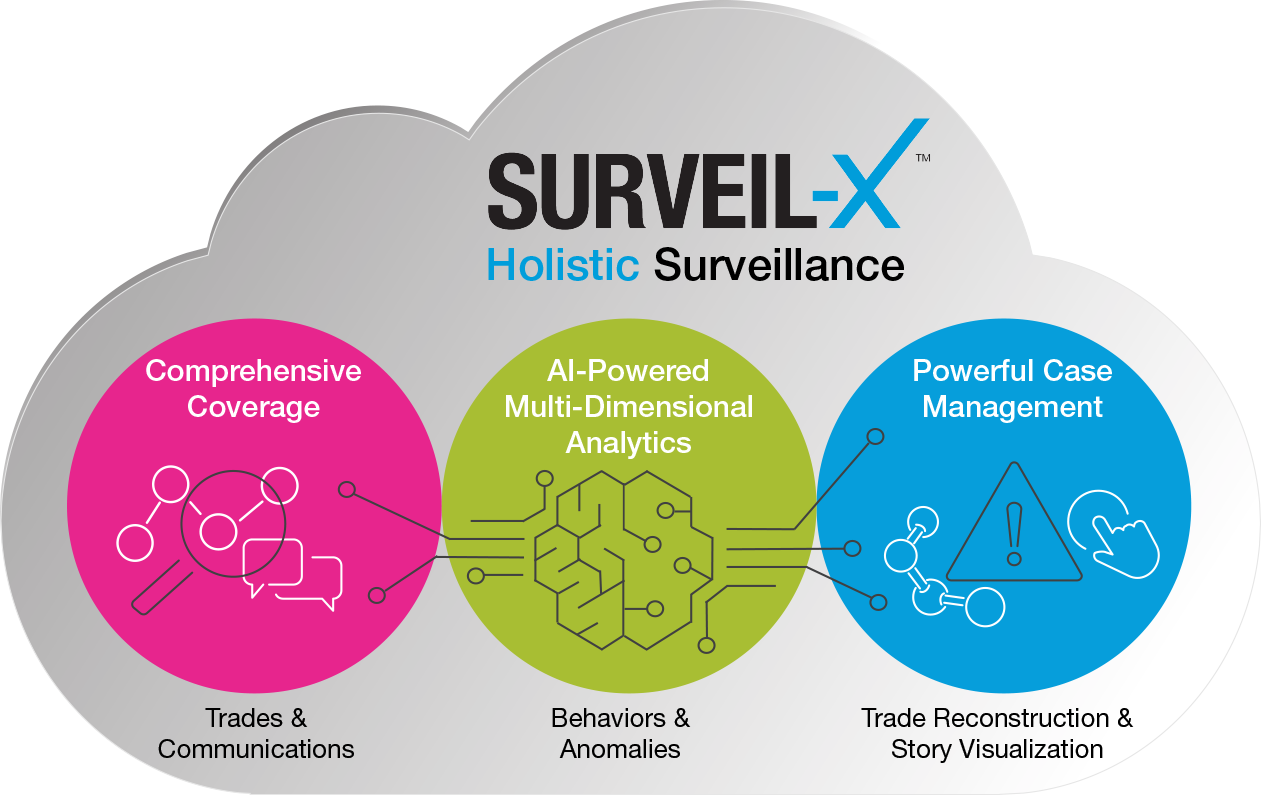 Multi-Dimensional Analytics Using all Trade-Related Data
Uses Natural Language Processing (NLP) to process all Communications
Events Reconstructed to Demonstrate True Intent
Discovers Previously Unknown Risk
Cloud Agility and Cost Savings
Provides Full Global Regulatory Coverage
The
SURVEIL-X

Advantages for Wealth Management
Complete Surveillance Coverage

All-in-One Turnkey Solution
Analyzes All Data Sources
Detect Known and Unknown Risk
Use More Data Sources
Surveils All Communications
One Solution for All Asset Classes
Cross-Market/Product Manipulation
Cloud Platform-as-a-Service

Faster Deployment
Reduced Costs for Infrastructure and Maintenance
Hassle-Free Upgrades
Seamless Scalability
Improved Resiliency and Security
Streamlined Innovation
AI-Powered Analytic Techniques

Multi-Dimensional Analytics
Natural Language Understanding
Broad Range of Out-of-the-Box Risk Detection
Models for Wealth Management
Model Fine-Tuning
Advanced Anomaly Detection
Flexible Client Reviews
Powerful Case Management

Enforcing Processes and Procedures
One Place to Work
Visualization and Risk Dashboarding
Integrated Trade Blotter
What's

New

?
Compliance Solutions Brochure for Client Advisors and Portfolio Managers. Get full access to the Resource Center, packed with informative resources.

Experts from NICE Actimize and PwC explain how SURVEIL-X can detect market abuse and conduct risk.


Schedule a free demo, customized for your specific surveillance & compliance needs.