Compliance Recording & Assurance
NTR-X is the world's first and only fully-integrated, cloud-ready next-generation omnichannel compliance recording and assurance solution.
Record

all of your regulated employee communications – traditional, unified, mobile – and ensure compliance with all global regulations.

Assure

and proof all your regulated employees and the communication devices they use are being recorded.
NTR-X's scalable, modular architecture will also significantly lower your total cost of ownership (TCO), and help you take control of your data, while providing a future path to cloud migration.
See for Yourself!
Schedule a free demo, customized for your specific compliance needs, and see for yourself why more than 90% of the world's largest banks trust us for compliance recording & assurance.

How to build the next generation of compliance recording

Is your firm still relying with a patchwork of legacy compliance recording solutions to capture communications and comply with regulations? Are you struggling with manual processes, high costs, the complexities of recording new modalities?

Watch this video as we provide advice on how to forge a better way. Learn what went into building NTR-X, NICE Financial Markets Compliance's next generation compliance recording solution, and the many advantages NTR-X affords your firm.
Integrated Compliance Recording and Assurance for Complete Lifecycle Management of Data
The first and only all-in-one communication compliance recording and assurance solution for complete lifecycle management of data, NTR-X reduces compliance risk and saves time by automating processes around compliance assurance and reporting, and responding to regulatory requests. Additionally, all recording and compliance assurance functions can be centrally managed globally through one interface.

With NTR-X your firm can confidently comply with all regulations, while also reducing compliance costs through automation. For example, NTR-X automates many previously manual processes, including:
Recording Checks and Reconciliation
You can verify that compliance recording is available for every configured endpoint. With real-time recording reconciliation, NTR-X even checks for missing or partially recorded calls. If discrepancies are found, stakeholders are automatically notified so they can immediately troubleshoot underlying issues, and proactively notify regulators.
Provisioning
You can centrally manage moves, adds and changes, and ensure compliant recording and retention for all regulated users across the enterprise. An expanded API enables NTR-X to automatically synchronize with your golden-source systems for up-to-date information, eliminating errors typically associated with manual data entry.
Transcription and Bulk Extraction
Accelerate investigation turnaround times and improve responsiveness to regulators. Automate costly and time-consuming manual processes around retrieving, downloading and transcribing trade communications. With NTR-X's bulk extraction tools and highly accurate, cloud-based transcription service, you can download and transcribe over a million recordings a day. There's no waiting to send audio recordings out to an external company for manual transcription, and no waiting days to get transcripts back. NTR-X's speech recognition engine can transcribe audio in over 40 different languages, and returns highly accurate results regardless of audio quality, speaker accents, dialects, slang and non-standard grammatical patterns.
Compliance Assurance Reporting
Provide evidence of compliance recording to internal stakeholders and regulators, while saving time, ensuring compliance and reducing the risk of fines. Track and manage legal holds, and confidently audit and document trade communications recording compliance while also providing evidence to regulators that all regulated users' trade communications are being properly recorded, archived and retained. All information is available through a browser-based dashboard, giving compliance managers complete insight across the global enterprise.
Complete Coverage with Omnichannel Compliance Recording
NTR-X's omnichannel recording gives you the flexibility to capture multiple communications modalities (voice, video, text) in a single recording platform, substantially lowering your server footprint and associated costs by up to 65 percent.
Omnichannel recording is especially important in today's work environments with the growing popularity of unified communications (including Microsoft Teams and Cisco Jabber) and more regulated employees now working from remote locations.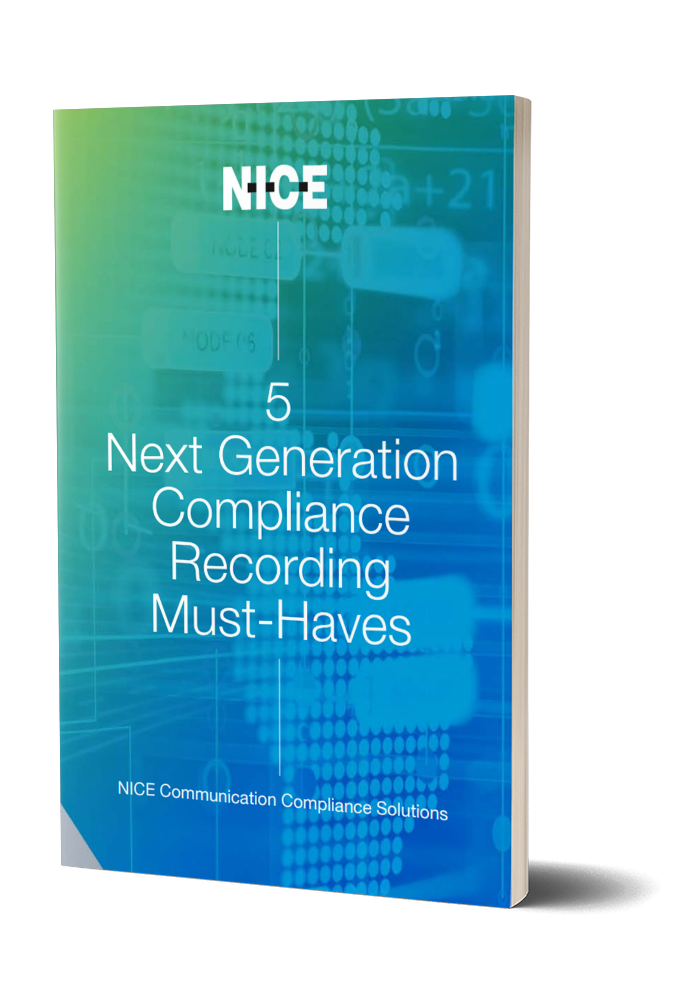 Want to Reduce the Cost and Complexity of Compliance Recording?
In this eBook you'll learn how our next-generation solution for communication compliance recording and compliance assurance, NTR-X, can help simplify compliance management in this increasingly complex world.
Get the eBook and read about the 5 must-haves to consider for your next compliance recording solution.