Markets Surveillance Monitoring -
A Global Challenge
Markets surveillance is a focal point of regulatory scrutiny. Regulators worldwide have become more aggressive in investigating and bringing enforcement actions, fines, and sanctions against firms with inadequate compliance procedures and systems.
Markets Surveillance is part of the SURVEIL-X Holistic Surveillance platform and helps financial services institutions, broker/dealers and future commission merchants meet their regulatory obligations, avoid costly fines and preserve their reputation.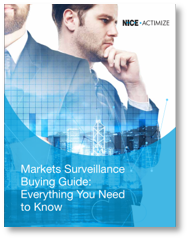 White Paper
Markets Surveillance Buying Guide: Everything You Need to Know
Download from our Resource Center your complimentary copy of this White Paper on the 12 factors every firm should focus on when selecting a markets surveillance solution.

With NICE Actimize's Markets Surveillance solution you can meet regulatory obligations, efficiently meet your regulatory requirements and demonstrate predictive, preventative compliance to regulators, clients and investors. Also respond quickly to regulatory and legal inquiries with these features:
Comprehensive Markets Surveillance Compliance Monitoring
Broad, consistent global coverage via standard models for equities, fixed income, foreign exchange, swaps, futures and options.
Best in Class Markets Surveillance Analytics
Out-of-the-box detection scenarios provide superior analytics that have been vetted by top tier global clients, industry professionals, and our team of seasoned subject matter experts. More than 12 years' experience implementing OTC instrument Markets Surveillance, including foreign exchange and swaps/OTC.
Case Management
The Markets Surveillance solution incorporates NICE Actimize Risk Case Manager (ActOne), a fully integrated, web-based case manager for efficient alert management, ad hoc investigation, and audit trail functionality. Improve organizational communication and minimize redundant efforts, while meeting regulatory books and records obligations.
Advanced Market Visualization
Effectively identify false positives and detect trading abuse by displaying alerts together with market activity and firm transactions. Many Market Proven Detection Scenarios are included:

Equities

Fixed Income

Futures & Options

Forex

Swaps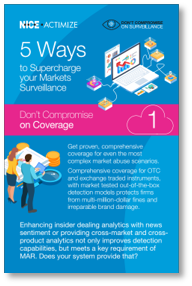 5 Ways to Supercharge your Markets Surveillance
Direct download a complimentary copy of this Infographic on NICE Actimize's Markets Surveillance:
Don't Compromise on Coverage
Don't Compromise on Analytics and AI
Don't Compromise on Case Management
Don't Compromise on Holistic
Don't Compromise on Value