SURVEIL-X Holistic Surveillance
Compliance Solutions for


Digital Asset Exchanges
The very erratic and unpredictable nature of digital currency trading makes it especially vulnerable to manipulation by criminal elements and bad actors. And this is precisely where traditional surveillance approaches and compliance controls fall short. SURVEIL-X's AI-driven analytics are specially tuned to catch all types of cryptocurrency trading misconduct, whether it originates from semi-anonymous traders or automated bots.
Take Cryptocurrency Surveillance to a Whole New Level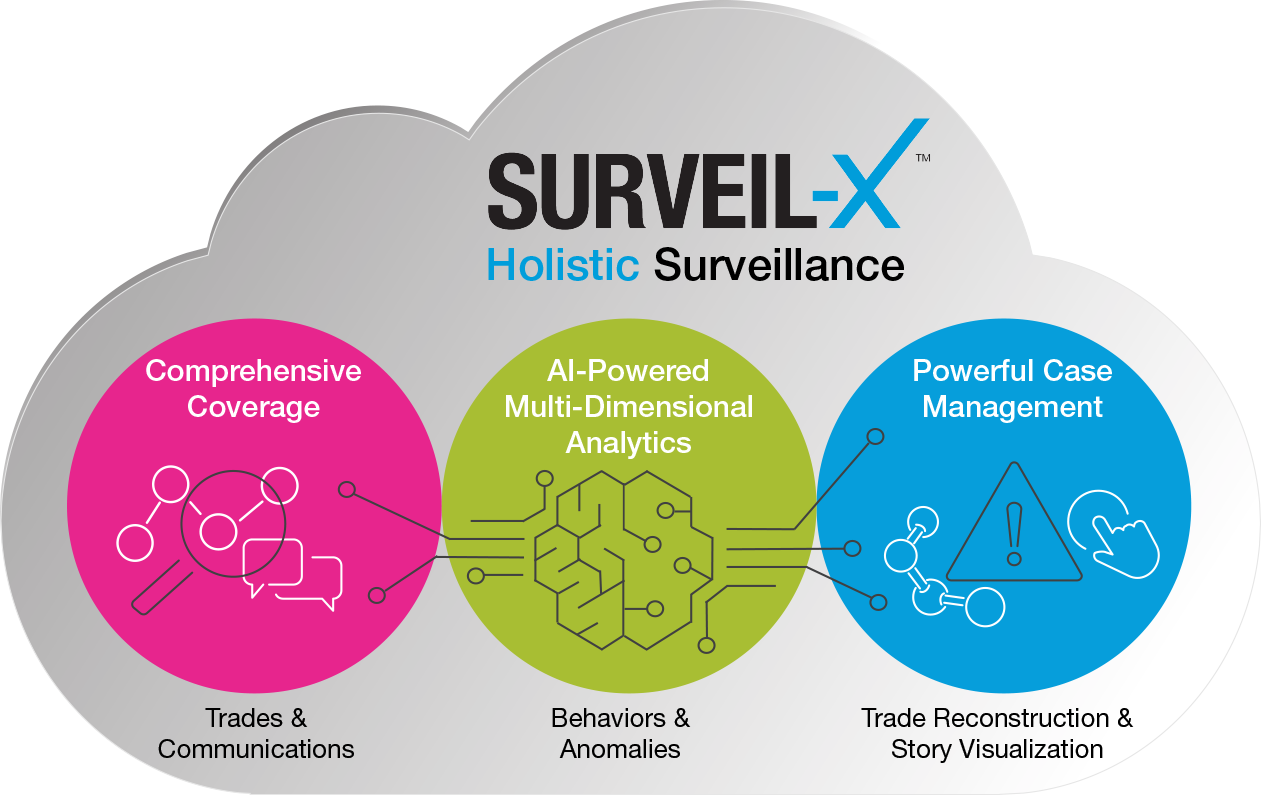 Multi-Dimensional Analytics Using all Trade-Related Data
Events Reconstructed to Demonstrate True Intent
Discovers Previously Unknown Risk
Cloud Agility and Cost Savings
The
SURVEIL-X

Advantages for Cryptocurrency
Complete Surveillance Coverage

Automated Surveillance on 100% of Trades
Ingest and Analyze Market Data from All Data Sources
Cloud Platform-as-a-Service

Faster Deployment
Reduced Infrastructure Operational, Training
Hassle-Free Upgrades
Seamless Scalability
Improved Resiliency and Security
Streamlined Innovation
AI-Powered Analytic Techniques

Broad Range of Out-of-the-Box Risk Detection
Models for Cryptocurrency
Market-proven OOTB models
Customizable Rules Engine
Advanced Anomaly Detection
Model Optimization Services
Powerful Case Management

Complete Investigations in Record Time
Policy-driven Workflows
Robotics Automate Repetitive, Manual Tasks
Easily Collaborate with Other Investigators
Share Detailed Findings
All Actions are Tracked and Auditable
What's

New

?
Helping Digital Asset Exchanges find cases of abuse and manipulation. Get full access to the Resource Center, packed with informative resources.

Experts from NICE Actimize and PwC explain how SURVEIL-X can detect market abuse and conduct risk.
Dave Ackerman is sharing his thoughts on why cryptocurrency isn't just a passing fad and what's in store for the future.