The Senior Managers and Certification Regime (SM&CR)
| | |
| --- | --- |
| What happened? | The SM&CR aims to reduce harm to consumers and to strengthen market integrity. It raises the standard of conduct for everyone who works in financial services, and by making senior people in firms more responsible and accountable for their conduct, actions and competence. |
| When does it take effect? | December 9, 2019, December 10, 2018, March 2016 |
| Who does the regulation effect? | Solo-regulated Firms, Insurance Firms, Banking Sector |
| When does Reg Best Interest Apply? | The SM&CR's overaching aim is to reduce harm to consumers and to strenghten market integrity. This is achieved by raising the standards of conduct for everyone who works in financial services, and by making senior people in firms more responsible and accountable for their conduct, actions and competence. |
| What does it require entail? | |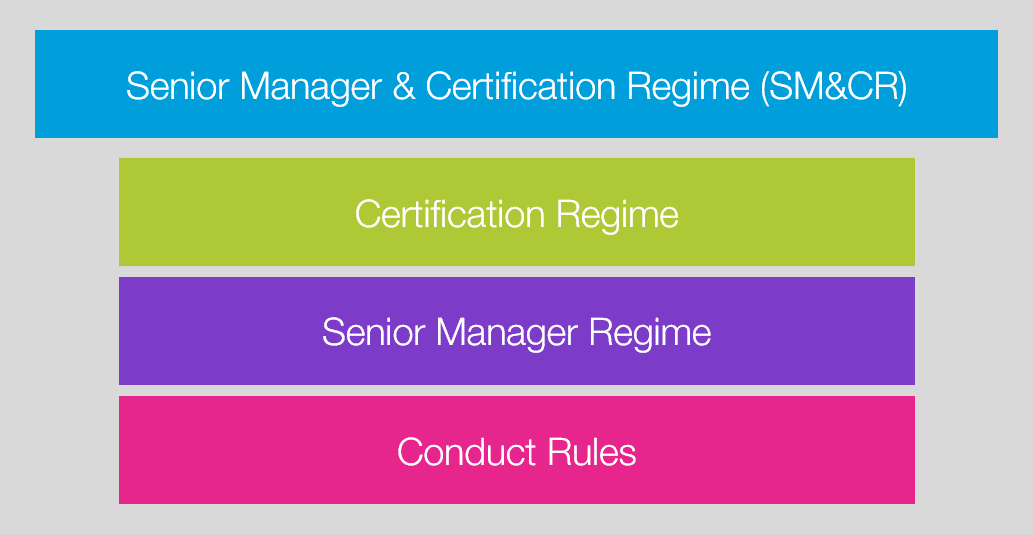 How to ensure compliance with SM&CR
Ensuring compliance with the SM&CR regime continues to be a pressing issue for many firms. NICE Actimize has launched SURVEIL-X Conduct, a powerful application of SURVEIL-X Holistic Surveillance, the industry's first AI-powered, cloud-native, true holistic surveillance solution. SURVEIL-X Conduct helps FSOs assess and manage their overall employee conduct risk.
Also, through the development of a new solution SURVEIL-X Intelligence, and new integration with existing NICE Actimize solutions, SURVEIL-X Conduct now provides FSOs a complete set of solutions for managing conduct risk across their organizations.
What is SURVEIL-X Intelligence?
The powerful new solution, SURVEIL-X Intelligence, offers the ability to link data across NICE Actimize solutions including; communication recording and archiving, employee conflicts of interest (ECOI), deal management, trade surveillance, communications surveillance, suitability surveillance, and employee fraud. SURVEIL-X Intelligence also interfaces with third-party data and surveillance applications that the FSO may be utilizing such as HR systems and physical access logs. This new offering provides precise 360-degree visibility into conduct across teams, departments, and/or divisions of a financial services organization.
Key components of SURVEL-X Intelligence include:
Enterprise-wide Risk Dashboards. Through SURVEIL-X Intelligence's advanced dashboards, senior level analysts and business executives instantly know where the greatest risks lie, whether or not current controls are working, and where more resources need to be allocated. Summary level data is presented in an intuitive, graphical, easy-to-read format, providing the ability to evaluate conduct risk on a global, divisional, regional, and even employee level. Dashboards also provide insight into how compliance analysts are spending their time, relative to highest risk areas, so managers can reallocate resources as needed.


Built-in Certification Management. SURVEIL-X Intelligence also automates processes around administering and tracking certifications, as required by the SM&CR as one example, and all activities are fully auditable. Alerts are automatically generated when regulated employees and business units fall out of compliance with certification requirements.


Whistleblower Management automates the collection and tracking of whistleblower complaints securely, using encryption to protect anonymity.


Anomaly Detection. Using machine learning to find hidden patterns in compliance data by comparing trends in employee related activity and alerts to historical behavior over time enables firms to identify previously unknown risks across all the divisions in an organization.
NICE Actimize's SURVEIL-X Holistic Surveillance solution offers unparalleled risk coverage for buy- and sell-side firms, insurance companies, crypto exchanges, regulators and more by enabling accurate detection and rapid, thorough investigation of market abuse, inappropriate sales practices, conduct risk and otherwise undetectable compliance risks to insulate firms from fines and reputational damage.