Mobile Phones Must be Recorded if Used for Financial Transactions
The new recording requirements of Trading Regulations (like MiFID II) encompass all telephone conversations (including Mobile Phones) and electronic communications that are intended to result in a transaction or the provision of client order services – even if they in fact do not.
As the need to monitor more employees and communication channels grows with new regulations, the NICE Trading Recording (NTR) compliance-focused platform addresses these challenges by capturing, storing and retaining all types of communications related to trading.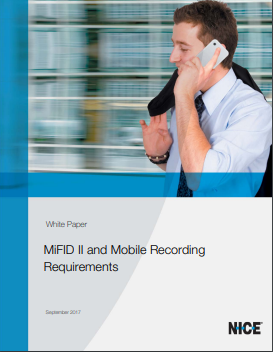 White Paper
MiFID II and Mobile Recording Requirements
Download from our Resource Center your complimentary copy of this White Paper, plus get access to many more informative white papers, analyst reports, eBooks, brochures, videos and on-demand webinars.

One Solution
Record multiple channels with one solution – whether internal or external, inbound or outbound, pre-, during- or post-trade, front-office or back office, fixed or mobile – NTR captures and manages the full spectrum of communications, which means lower cost of ownership and streamlined investigations.
Scalable
A scalable, distributed architecture means NTR can easily scale to meet the needs of small branches up to global trading firms, while also adapting to support any type of communication.
Seamless
Seamless mobile call recording means foolproof compliance; there are no buttons to push, and no recording delays. The agile NTR solution integrates with virtually every compliance mobile provider (AT&T, Vodafone, O2, SingTel, PCCW, and more), as well as leading mobile carriers around the world (Truphone, Natterbox, Teleware and others), giving financial institutions with more options to capture traders' mobile calls and achieve complete compliance.
Capture, Manage & Prove all Financial Communications
NICE offers a complete solution that facilitates rigorous recording and monitoring of regulated users communication activities, which is key to a firm ability to meet the stringent regulatory demands and achieve an operating environment that protects customers and the firm reputation.