Confidently Record and Archive All Regulated Employee Voice & SMS Communications on WeChat
Across financial services, from the trading floor to advisory services, many organizations have started to adopt mobile applications such as WhatsApp, as they offer greater flexibility in communicating remotely and connecting with key customers on platforms of their choice. With WhatsApp monthly active users base reaching over 2 billion globally, and rapidly increasing, financial services organizations have had to step up to the demands of remote trading by lifting long-lasting restrictions on mobile device usage.
At the same time, regulators have left little wiggle room for firms to skirt regulations. Regulators such as FINRA, SEC, FCA, ESMA and IIROC have various mandates to record voice calls and archive text messages. ESMA's MiFID II, for example, requires all electronic communications (intended to result in a transaction) to be recorded, even if they do not. This includes WhatApp voice recording as well as recording conversations on all platforms and devices. In today's unprecedented time, as more regulated employees work from remote environments, where they're more likely to engage in risky behavior, firms need to be more vigilant than ever.
Compliance Focused
The NICE Trading Recording (NTR-X) compliance focused product suite addresses these challenges by capturing, storing and retaining all types of communications related to trading. NTR-X WhatApp call recording enables for the seamless capture and archiving of mobile communications in a single platform, irrespective of mobile application or employee location.
Benefits of NTR-X WeChat Call Recording:
Close compliance recording gaps by fully capturing and archiving 100% of all voice and related eComms, such as chat, for all mobile approaches including WhatsApp, WeChat, BYOD and owned devices
Simplify risk, compliance and regulatory strategy with centralized management and assurance for all recorded users and communications
Built for Financia Services to meet employee and customer demands for compliant, mobile modern messaging and communication tools
Automate costly tasks around compliance, investigation, and administration, with integrations into powerful downstream surveillance, eDiscovery, and transcription applications
Lower the total cost of ownership of your compliance recording program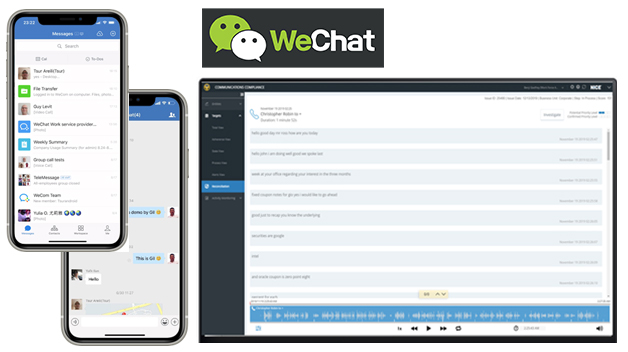 Capture, Manage & Prove all Financial Communications
NICE offers a complete solution that facilitates rigorous recording and monitoring of regulated users communication activities, which is key to a firm ability to meet the stringent regulatory demands and achieve an operating environment that protects customers and the firm reputation.